The love and craze for candles is not a recent phenomenon! These have been there for centuries. Scented candles are an improvised version of classic candles. And why do we love candles can't be defined in a sentence. These have a lot to offer you. And are ceaseless to lose their charm ever.
This article unfurls a few well-known factors that make candles a hot favorite of consumers. And lets you know why people buy candles a lot.
What Makes Candles Evergreen Beauties: Why Do We Like Scented Candles?
In the contemporary scenario, the candle market is on an upsurge and making a whooping income. And why do we like scented candles is best told by people who have first-hand experience using them. And we put down the most popular reasons that make you fall in love with them:
1. A Perfect Fusion Of Scent, Light, And Home Decor
We all love fragrances. And the perfect way to welcome scents home is by lighting a scented candle. These are handy, cost-effective, and easily available. You get these in a wide array of aromas that intermingles in your space and give instant hits.
Fragrance oils and essential oils are the two popular kinds of oils that go into adding scents to your candles.
You find scents of many sorts and can choose the one according to your preference. Be it your bedroom, living room, or kitchen you can place them in different areas in your home and let the scent permeate the air.
A fragrant home is not only soothing and relaxing for the residents but is equally inviting for the visitors too. These give an instant whiff of scent and make it feel pleasant.
Scented candles look stylish and beautify your home with their looks. These are available in gorgeous designs, colors, scents, and jars. Place them on the wall shelves or the center table in your drawing room or living room and see the difference.
You can place them on the vanity table in your bedroom and give your beauty regimes a classy touch.
Often, you don't even have to light the candle! Many of them look amazing as simple decor!
2. Candles Are Life On Romantic Dates
Certain emotions are best expressed classically. A romantic dinner date with the perfect background, music, and splendid cuisine may sound great.
But does it create the ambiance without a candle? No, it doesn't.
It's the candlelight that instills warmth at the moment. Choosing the right candle with the perfect scent does impress your loved one.
The glow of the candle next to both of you gives the finishing touch to your romantic date. A bright dancing flame steals the show and makes you bask in its light. Sultry, soft, and sensual luxurious scents set the perfect romantic mood.
Scented candles with floral fragrances enhance your romantic mood. And can spice up the whole setting. These work wonders like a bouquet emitting floral scents. Rose, Jasmine, vanilla, and lavender are a few such scents.
These scents stimulate your senses and lead to intense experiences. Jasmine has a powerful aphrodisiac element and jasmine-scented candles can make the whole setting exotic and sensual.
Don't limit yourself to floral scents alone. Be a little fruity! Citrus scents like orange, lemon, and grapefruit can be playful and uplift your mind and body. You feel energized.
3. Scented Candles Add To The Celebrations And Festive Spirit
Some celebrations are incomplete without the solemn grace of candles. And have been there for decades. Be it birthday celebrations or a wedding anniversary, candles are a metaphor for warmth and zeal. Scented candles are a fantastic way to create an intimate and cozy environment.
For festivals like Christmas, buy scented candles with woody scents. Apple, cinnamon, cedarwood, and vanilla are a few popular scents.
4. They Form A Point Of Focus
The popularity of essential oils as a way to ease many health ailments is well-known today. Aromatherapy candles carry these essential oils locked within the wax, which gives off therapeutic benefits once you light them.
As the wax melts, it releases the scent of oil that settles in the air. And when you inhale it, you get the health benefits like easing coughing, migraine, skin problems, insomnia, and indigestion.
Besides, you get scented candles with the organic wax base that makes it all a completely natural phenomenon.
If you are into meditation and candle gazing practices then lighting scented candles before you give a boost to it. Both these practices improve your concentration level and help you stay focussed on your work all through the day.
Candle gazing by using scented candles with specific essential oils is a great way to combat insomnia and depression, improve eyesight, and master your concentration level.
5. Candles Add Grace To Any Setting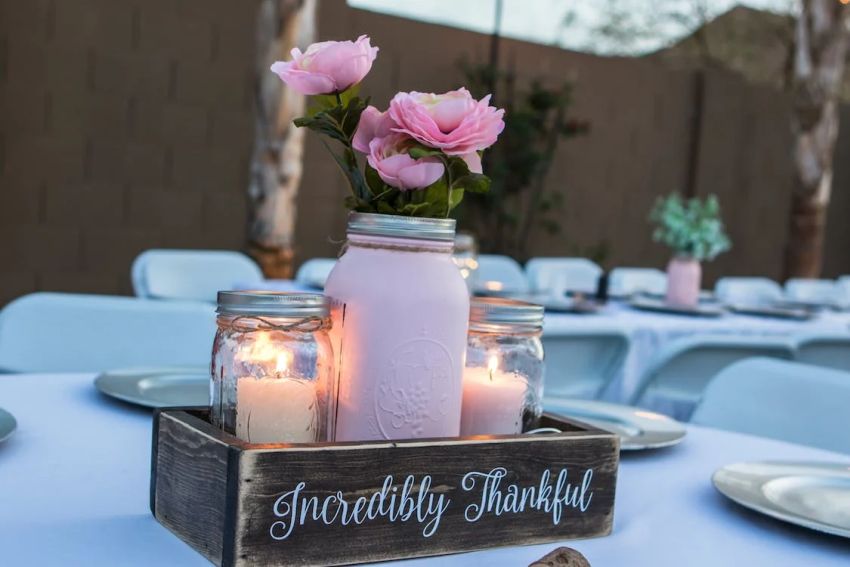 There are times when you want to pen down creative lines and need that perfect setting. Some of you may play your favorite tunes, sit on a beach, or sip a warm cup of coffee.
But there may be a few of you who find a companion in a scented candle. Light it on a table and kickstart your creative drive.
Scents have a direct connection to our senses which evokes particular emotions. Scented candles with essential oils like cinnamon and vanilla trigger your imagination, calms your mind, and create positivity.
Light a scented candle while you relax in your bedroom and breathe in its aroma. Draw the curtains, switch off the lights and burn your favorite scented candle.
The soothing effect of scents induces sleep and helps you to relax after a long stressful day. Sandalwood, jasmine, lavender, and ylang-ylang calm are a few such essential oils.
Do you know why do women like candles? It is because women find the warmth and glow of a burning candle captivating. Women are dreamers and the warmth of candles next to them rekindle their fleeting memories and ignite their imagination.
However, it is a common notion held that women are more fond of candles than men. Well, you usually find more females in a candle store but that doesn't suggest that men lag in their enjoyment of candlelight.
A burning candle effusing a soothing scent in your bedroom after a long exhausting day is comforting and relaxing.
Men may choose a scented candle as a gift for their beloved as women love scents and candles. Many men like to keep their home and office decor up to the mark. And keeping a scented candle there is quite impressive.
6. Gifting Candles On Celebrations And Ceremonies
Be it a birthday celebration, wedding anniversary, or housewarming occasion, finding the right gift tends to be stressful.
Scented candles can solve this problem and save you from overthinking. These make thoughtful gifts as these fit well in your everyday life.
These can be tailored according to different occasions. Buy a nice-smelling candle and gift it to your friend for a housewarming celebration. It adds to home decor and your friend will love it.
Plus, it's not just scents that candles offer. Many candles have lovely designs and can be a great match for any occasion.
Endless Reasons To Fall In Love With Candles
Candles are loved by people all over the world. These are a chosen way for home fragrances and decor. These visually pleasing aesthetic items can transform any of your regular moments into a serene, exotic, fun, and festive one.
Besides, these are pocket-friendly so buying them is a great choice. The article listed the most popular reasons that reflect why do we love candles. You may have more reasons of your own!