Placing scented candles in your home is an excellent way to add beauty, light, and fragrance. So where to place scented candles for the perfect home ambiance? This article answers the question.
If you are fond of aromatherapy then candles can enhance your aromatherapy session. They are also great for a fragrant home, ambiance, and season-appropriate scents.
Scented candles are not expensive and add a good vibe to your home. The fragrances can do wonders to the overall setup of your place when kept at the right spots in a room.
Best Places at your Home to Keep Scented Candles
1. Bedroom: Level Up Your Comfort, Relaxation, and Rejuvenation
Adding scented candles to the bedroom brings about calm. The effect of candles is soothing for tired eyes.
You could practically get scented candles in any imaginable scent. The classics like ginger, jasmine, rose are all available, as are some exotic and even weird scents.
Scented candles come with an additional trait of offering aromatherapy. It becomes almost synonymous with self-care because the scents calm the mind and help to have a peaceful sleep. The essential oils tend to also lift our mood.
Scented candles in the bedroom enhance your romantic moments with your partner too. They can add to the aphrodisiacal effect in the room. Jasmine is one such scent. The dim light effect blended with the scent can set the mood for warm, more enjoyable, and sensuous encounters.
Place scented candles near the side tables, dressing table, and wall shelves.
You can also use floating candles and place the tray on a table in the room
2. Living Room: Make it Lively
As a living room is often decorated with splendid furniture and other accessories, adding scented candles here is an icing on the cake.
Fragrances that enhance the aura of your living room are fruit aromas of green apple, pomegranate, and grapefruit. Deeper or intense fragrances such as cardamom, ginger, or blackberry can be used. Using decorative scented candles with a contrast color scheme of the walls enhances the look of the room. As an example, place olive green or dark cherry-colored candles in a room with cream-painted walls. You just have to know where to place scented candles.
If you have a designed candle stand, you could use it.
The center of the coffee table is a good place for scented candles.
Designer shelves are excellent, provided candles get enough vertical clearance for the hot air.
Glass votive candles or jar candles look good as decoration pieces.
3. Fragrant Candlelight Meals for the Dining Room
Adding scented candles to the dining room definitely adds to the mood of the mealtime, especially dinner. Thus, it is not overrated to say that candlelight dinners are everyone's delight. When an aroma of cuisine is blended with the fragrance of a candle, it enhances the mood of everyone on the dining table. Moreover, the lighting effect makes for a picture-perfect family time.
Choose scents that don't interfere with the aroma of the food. Pick up citrus-based scents if you feel the smell too strong otherwise keep the scents soft.
Now the last important point to consider is where to place scented candles. The correct placement can take the whole dining room setting a notch higher.
One spot could be fixing the candles on candle holders in metallic or wooden candelabra in the center of the dining table.
Place conventional candles on the table and accent the wall shelves or surroundings with scented candles.
4. Refresh your Bathroom with the Scents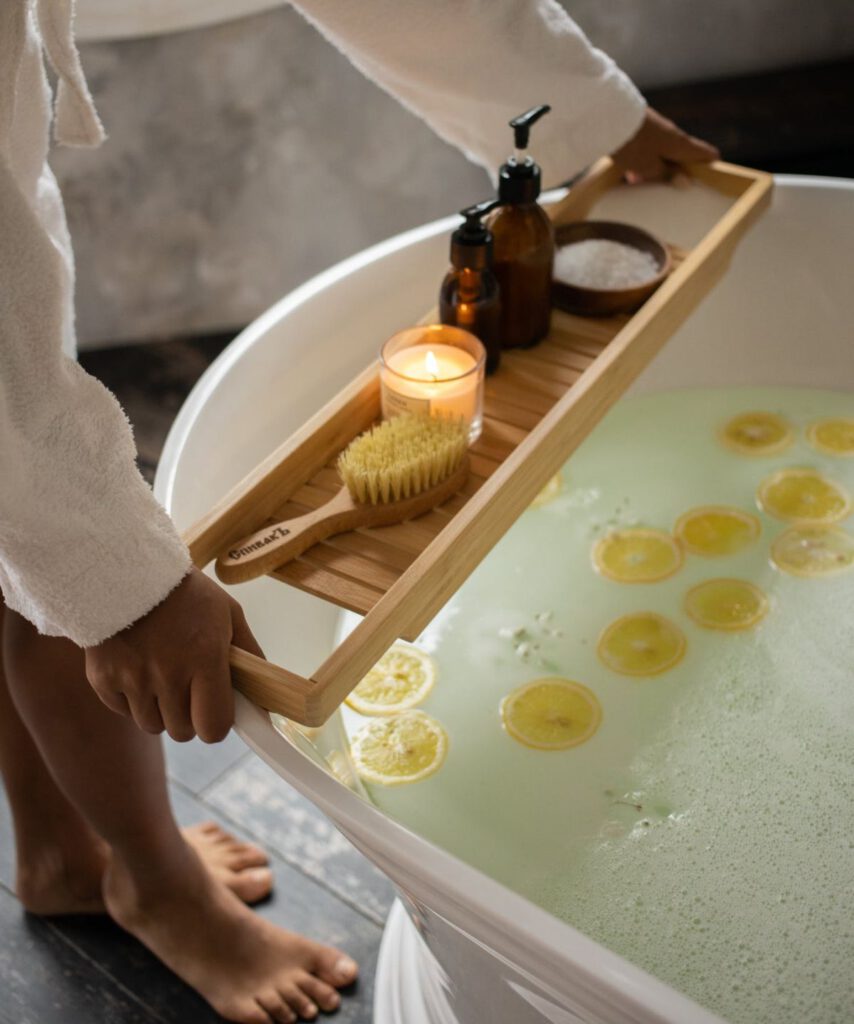 A scented candle placed at an appropriate spot in the bathroom can be refreshing. We all know how daunting it is to step into a stench-filled bathroom that could spoil our morning, therefore the whole day. It could be equally an unpleasant experience for any visitor to your home. So you would definitely want your bathroom to be more presentable.
After a long exhausting day, just lying down in the bathtub is soothing and relaxing. Lighting scented candles near your bathtub add an aromatherapy element to your bath. It also creates the feeling of a spa. Lying in the bathtub with candles lit around helps the person connect to deep emotions and combat inner fears or stress.
Consider scents like jasmine, lemon, and ocean breeze. Be careful about the selection of the various spots in your bathroom to place these candles.
Never place a candle at a spot where accidentally you knock it down as some ceramic surfaces of the bathroom offers less stability to the candles.
The middle part of the bathroom counter is ideally the most suited place to place your scented candles. Remember not to place hand towels or tissue papers near the candles.
Keep candles on a stable table near your bathtub.
5. Ideas on Where to Place Scented Candles in the Kitchen
You may ask what is the need to place scented candles in the kitchen when we can enjoy the rich aroma of various cuisines. Yes, you are right in your way. The aroma could engage anyone's senses in the kitchen and wherever it flows in your home.
However, sometimes there are few occasions when the smell arising while cooking certain dishes could be unendurable. There are times too when the smell coming from the unwashed cutlery in the washing sink makes it an unpleasant cooking experience.
So how to neutralize the hard smell? The answer is simple. Light up scented candles in your kitchen and let the fragrance do wonders by nullifying the hard smell while you fry, grill or roast. Citrus aromas like orange and lemon are the few best scents for your kitchen that could do the job. To make your cooking time pleasant place candles on the following spots.
Shelves, countertops, and coffee table.
Be mindful of keeping the inflammable materials away from burning candles.
One thing to consider here is that if you have limited space use a few candles.
If you have a kitchen island, then you can place the candle at the corner of the cabinet and enjoy your coffee or mealtime by sitting on a stool next to the cabinet.
6. Prayer Room / While Meditating
Meditation could become a more peaceful way to connect to our innermost self and with the divine when surrounded by scented candles in a quiet setting. Scented candles can aid in inner healing while meditating and offers an aromatherapy effect on the mind and body.
Meditating in a silent and reposed setting flanked by aromatic candles elevates the experience. The particular scents help in clearing the mind and removes negativity from our thoughts. Here it is important to remember that certain colors enhance the meditation effect. When you do meditation for inner peace or spirituality incorporate candle colors like white blue or purple. The candle color of love and romance is red or pink. Cinnamon, jasmine, and pine are a few scents used for meditation.
A flickering scented candle is a powerful spiritual tool that helps to connect to the divine while we pray. It is believed that by focusing on the flame of a candle people have their silent conversations with the almighty. It alleviates their fears and agony. All you need to be particular about is where to place selected candles here.
For meditation, place the candle on a non-flammable base in front of you, at some distance.
You can also spread the candles across the room if it is spacious enough. This helps in its aromatherapy effects.
If you want to use candles for prayer, you can keep them at the altar. Just be careful of placing it on a non-wooden base and make sure you blow off the candles before leaving.
Also, consider placing scented candles in the corners of the room.
7. Engage your Senses During Yoga, Pranayam, and Exercise
Scented candles are a beautiful and relaxing way to blend the benefits of aromatherapy into your yoga, pranayam, and exercise sessions. What matters is the right scent that helps you to focus on your physical movements and deep breathing.
The essential oils of the candles promote the energy and the vibes needed for your physical workout. Therefore unroll your mat, get dressed in your exercise outfit, and light a few scented candles to transform your workout place into a yoga studio.
Scents flowing from the candles make the Pranayam or breathing exercise a serene and pure experience. It's all about fresh oxygen intake and when the mind welcomes the soothing and light fragrance, it becomes a power yoga session.
Be vigilant about the spots where to place scented candles.
Physical movement during the exercise may accidentally hit the candles. therefore, keep the candle at a distance from your mat.
Place the candle in the corners of the room as you need no obstruction during your exercise. Remember to place them away from curtains.
8. Make an Inviting Hallway
Add grandeur to your hallway with scented candles. A warm fragrance like spiced orange creates an aromatic impression. Here pillar candles create a delectable aura to the space. A few spots for where to place scented candles are listed below.
A long elongated side table kept near the entrance door.
A wall shelf is another great spot for putting the candle.
Use limited candles if your hallway is not spacious enough or it will give a cluttered image.
9. A Heavenly Stairway
You can enhance the look of your staircase and make it ooze with style by placing fresh flowers at appropriate spots on it. A scented candle is the next best option if flowers are not available.
You can give a stairway an electrifying look during certain occasions by simply placing the candle that blends with the festive spirit. For example, place a pine candle during Christmas. Try to use colorful candles here because they will beautify its look. Go for welcoming scents like lily, rose, and lavender. few spots where to place scented candles are enumerated below.
If your stairway has window shelves running parallel to it, place the candle there.
You can also place a small wooden or metallic table near the landing to put the candle.
10. Where to Place Scented Candles on a Covered Terrace
To enhance your quality time spent at the terrace try pacing scented candles here. For your leisure time, choose simple candles beside the scented candles. If you spend time here for an aromatherapy benefit then a reed diffuser, an essential oil diffuser or incense would do the work.
Place the candles in a tray on the center table.
You can also hang the candles in candle jars from the ceiling or the side walls.
Never decorate your terrace with too many candles as it would interfere with its natural setting.
11. Home Office Stress Busters
A scented candle can be a great stress buster at your home office to combat stress and work pressure. The aroma of the candle generates a warm environment that calms senses and enhances work productivity. Do not use extremely vibrant colored candles here as you may not want to give your office a fancy look. Prefer candles that have light colors and mild fragrances.
You should place the candle on the side table in your office room.
Never place it on your work table as it has inflammable materials.
Precautions and Safety when Placing Scented Candles
Now that you are well -acquainted that where to place scented candles for perfect home ambiance at home, you must know about the safety measures too. Never place scented candles near inflammable materials like curtains, beds sheet, and tablecloths.
Make sure you blow off the candles before you fall asleep as an unattended burning candle is quite a risk to ignite a fire. Besides, scented candles shouldn't be lit in a room for more than four hours. Keep the candles on a hard, non-flammable, and stable surface. Avoid placing the candle too near to the window panes as it may be igniting.
Besides these safety measures, a few suggestions could be useful to you while you place candles at home. If you wish to use two candles of different scents make sure the scents blend well. The fusion of scents is not a bad idea if it's a pleasant aroma.
To maximize the effects of the scents keep the candle away from air vents at your home. Avoid placing candles near the shelf of a window that is opened frequently as it would fade away the scent in your room. So what are you waiting for when now you know where to place scented candles for the perfect home ambiance. Just go ahead and put candles in your home for serenity and overall well-being.